Tuesday, May 07, 2019 -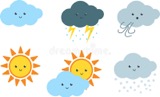 The following is a reprint of an
article
by Brett and Kate McKay that appears in the Art of Manliness web site.
When you really think about it, the weather impacts our decisions every single day. What we wear, when we leave for our morning commute, the chores we do, the hobbies we partake in, the family activities we plan. And on and on the list goes of how our lives are influenced by the winds and skies.

Today, we have meteorologists and entire government agencies dedicated to predicting the weather with high-tech computers and algorithms, but a hundred and two-hundred years ago (and more!), folks had to rely mostly on observation and rudimentary tools to predict the weather of the coming days.

To help with this task of predicting the weather, farmers, sailors, and amateur meteorologists of all kinds came up with handy, often rhyming proverbs that could guide their observations. They realized that animal behavior, wind direction, air pressure (which could be measured with a barometer), etc., were pretty accurate indicators of how the weather would behave.

Perhaps surprisingly, most of this handed-down "folk wisdom" is really quite accurate, and has a lot of science behind it; weather proverbs of old can be applied today just as well as they were centuries ago. Rather than relying on your local meteorologist or your smartphone app to tell you what to wear for the day, why not work on your powers of observation and come to understand more about the weather and the natural world around you?

Note: I highly recommend first reading our article on air pressure and barometers; many of these proverbs are related to atmospheric pressure and how it relates to incoming and outgoing weather systems.


Read More...