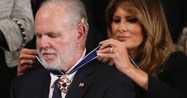 WASHINGTON—Saying his initial enthusiasm had faded after learning about the award's history, conservative radio personality Rush Limbaugh conceded Wednesday that receiving the Presidential Medal of Freedom was less of an honor knowing it had been bestowed upon Rosa Parks and Maya Angelou, too. "While I understand this medal represents the highest civilian honor possible, I was a bit disconcerted to discover this morning that I share this distinction with both a civil rights icon and a poet who gave a voice to black Americans," said Limbaugh, who explained that he hopes people don't doubt his integrity as he joins the ranks of the award's previous recipients, especially Cicely Tyson, Ralph Ellison, Archbishop Desmond Tutu, Stevie Wonder, and Willie Mays. "I almost sent it back. But instead I have decided to keep my Medal of Freedom and let it stand as a testament to my willingness to tolerate others. I hope my acceptance of it will go some way toward reclaiming this honor from the Martin Luther Kings and Nelson Mandelas of the world." At press time, Limbaugh confirmed he felt more confident that the award meant something after learning it had also been given to Henry Kissinger and Strom Thurmond.
Read More...

In 2015, the Saskatchewan Human Rights Commission (the "Commission") received a complaint naming Gregory Burke as well as two corporate employers as respondents. At the time, Mr. Burke was the Museum Director for what is now the Remai Modern, and he was alleged to have discriminated against female employees.

In 2019, four years after the Commission commenced an investigation into the complaint as part of the standard process, Mr. Burke brought an application to the Court of Queen's Bench seeking an order granting a stay of the entire proceedings or, alternatively, seeking an order both granting a stay of the proceedings to the extent they relate to him and removing him as a respondent. Mr. Burke argued that the investigation process resulted in inordinate delay, which caused him prejudice, and as a result the complaint against him ought to be dismissed.

In a decision dated December 31, 2019 [Burke v Saskatchewan Human Rights Commission, 2019 SKQB 339], the Court held that the four years taken to only partially conduct an investigation resulted in ordinate delay and that Mr. Burke had suffered prejudice as a result of the delay, which was sufficient to grant a stay of proceedings insofar as they involved Mr. Burke as an individual respondent. The Court went on, however, to provide commentary on the Commission's decision to expand the investigation's scope midway through the process.
Read More...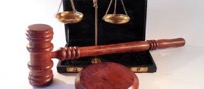 On December 19, 2019, the Supreme Court of Canada (the Court) released a landmark ruling in a trilogy of cases intended to bring clarity to the judicial review of administrative decisions. In
Canada (Minister of Citizenship and Immigration) v. Vavilov
, the Court adopted a revised framework for determining when the applicable standard of review is "reasonableness" or "correctness". The Court also provided additional guidance on the proper application of the reasonableness standard, emphasizing the importance for administrative adjudicators to provide rational and coherent justifications for their decisions. This new approach was then applied in two appeals heard together as
Bell Canada v. Canada (Attorney General)
.
Read More...
Wednesday, February 05, 2020 - Filed in:
Courts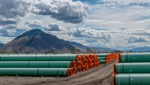 The Federal Court of Appeal rejected claims by several First Nations that federal officials failed to adequately consult with them on the Trans Mountain pipeline, removing the final major barrier hanging over the long-delayed project.
Read More...
Monday, February 03, 2020 - Filed in:
Courts

A recent decision of the Ontario Superior Court of Justice
1
calls into question prior holdings about the transferability of salespersons' skills and offers additional insight into a terminated employee's duty to mitigate their damages post-dismissal.
Read More...
Thursday, January 30, 2020 - Filed in:
Courts

In Katz et al v Clark, 2019 ONSC 2188, the Ontario Divisional Court unanimously held that the motion judge erred in denying summary judgement in a case where the Plaintiff's contract of employment became frustrated as a result of a permanent disability. This decision reinforces core legal principles that underpin the disability accommodation process in the workplace. Specifically, the Divisional Court reiterated that the doctrine of frustration applies where the performance of an employment contract is rendered impossible because of an employee's disability. The Divisional Court also clarified that an employee's desire to return to work alone will not cure frustration of contract. Rather, an employer's duty to accommodate is only triggered where an employee expresses both: (i) a desire to return to work, and (ii) evidence of the ability to do so.
Read More...
Monday, January 27, 2020 - Filed in:
Courts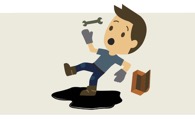 The workers' compensation scheme is designed to provide no-fault compensation to injured workers. Under the workers' compensation scheme, however, workers lose their cause of action against their employer as well as other parties who may have been responsible for the workers' injuries suffered in the course of employment. Despite this, the Alberta Court of Appeal recently confirmed that a director can be personally liable for a workplace accident that resulted in an injury to a worker.
Read More...
Thursday, January 23, 2020 - Filed in:
Courts

It is a fact of life. Employees sometimes need flexibility to start or leave work at different times than originally agreed with their employer. Sometimes this is because of child care issues. A recent appellate decision,
Peternel v. Custom Granite & Marble Ltd.
, confirms that employer flexibility in granting occasional requests does not always modify the underlying employment contract.
Read More...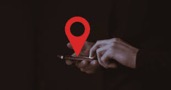 Hollywood has us believing that spyware technology is only used by secret-agent hackers who plant tracking devices in the wheels of cars or in the soles of shoes. But in reality, "stalkerware" isn't as high-tech or inaccessible as we're led to believe. It's a tool that can be harnessed as a dangerous weapon, stripping people of their privacy — especially women in abusive relationships.

Stalkerware technology, also known as "spouseware," takes the form of applications or add-ons to a device that allows someone to remotely monitor another person's activity. This technology has become increasingly accessible, but yesterday, the Federal Trade Commission (FTC) made its first case against the developers behind three stalking apps — originally created to monitor children and employees – that may also be used for illegitimate purposes.
Read More...
Thursday, January 16, 2020 - Filed in:
Courts

Last week's Nova Scotia Court of Appeal's decision in Halifax Herald Limited v. Clarke, 2019 NSCA 31, is good news for employers. The Court overturned the trial judge's determinations that an employee had been constructively dismissed after he was transferred to a new sales position and had not failed to mitigate his damages by declining to stay at work in the new position.

The Court held that the trial judge had committed three reversible errors by: (1) excluding relevant evidence of actual sales results; (2) misapplying the legal test for constructive dismissal; and (3) misapplying the legal test for mitigation. As a result, the Court not only overturned the trial decision but dismissed the action outright. The former employee must now pay the Herald approximately $130,000, which includes trial and appeal costs.

This decision is good news for employers faced with restructuring their business to manage industry change and other developments. It brings improved clarity to the law of constructive dismissal and the duty to mitigate. The analysis must be objective and consider the evidence from the employer without unduly focusing on the employee's subjective views. Moreover, a reduction in income – whether actual or anticipated – does not automatically remove the duty to mitigate by continuing in the position.
Read More...
Tuesday, January 14, 2020 - Filed in:
Courts

Recently an interesting summary judgment decision on a wrongful dismissal case was released in Alberta. In Belanger v. Western Ventilation Products Ltd. (Belanger), 2019 ABQB 571, the court held that while the reasonable notice period provided to the employee was insufficient, it had no practical effect as the employee was not entitled to any further payments from the employer after the employee became disabled and unable to work partway into their working notice period.
Read More...

The following is a reprint of an
article
that appears in the Art of Manliness web site.
There are a lot of reasons for the job interview to weigh heavily on people's minds. It's a very all-or-nothing situation; you're in or you're out. Of course more factors than your clothing come into play — but the clothes matter too, and even habitually sloppy dressers tend to be aware that interviews call for special care.

So let's start by debunking a piece of well-meaning but incomplete advice: While some will say that you should wear a suit to every interview no matter what, the truth is that there is no default "interview suit." And not every job interview even requires a suit; in the wrong setting it can actually hurt your chances.

Yes, a good business suit is frequently the best choice for an interview. In tomorrow's article we'll talk all about when to wear one and how to perfectly pull it off. But we're also going to cover your other options, and most importantly we'll talk about how to choose the right outfit for the kind of job you're going for.

Before we dive into those specifics and the how of dressing well (and appropriately) for a job interview, however, today we'll simply unpack exactly why it's so important in the first place.
Read More...
Wednesday, January 08, 2020 - Filed in:
Courts

The Ontario Court of Appeal has overturned a trial decision and found that when an employee resigned from employment, only to rescind the resignation, the employer was permitted to enforce the employment contract entered into as a condition of "continuing" employment.
Read More...
Friday, January 03, 2020 - Filed in:
Courts

Reza Baraty alleged he was constructively dismissed from his position with Wellons Canada Corp. ("Wellons"). He considered: (1) his position to have been eroded to the point where he was no longer a manager; and (2) the work environment to have become intolerable because of bullying and harassment by a co-worker.


In Baraty v. Wellons Canada Corp., 2019 BCSC 33, the B.C. Supreme Court dismissed his claims.
Read More...