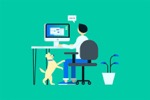 Writing for The Atlantic, Derek Thompson aptly states:

Even before the pandemic struck, remote work was accelerating . . . . Now, the coronavirus outbreak has triggered an anxious trial run for remote work at a grand scale. . . . What we learn in the next few months could help shape a future of work that might have been inevitable, with or without a once-in-a-century public-health crisis.


Quoting Hiten Shah, he goes on to say:


Right now, remote work isn't working for most companies . . . . That's because we spent the last 120 years learning how people can be productive in an office. The rise of the telegraph and the railroad in the late 19th century didn't just give us retail, advertising, and mass distribution; it also gave us managerial capitalism–middle managers, top managers, and modern hierarchies at corporate headquarters. The 21st-century economy has already changed retail, advertising, and mass distribution. Perhaps inevitably it will also change work and management. . . . But first, companies will have to learn that remote work is different work.


He concludes:


. . . [A] pandemic is not an appropriate time to determine what kind of labor arrangement is optimally productive on a per-worker basis. It is rather a moment for companies to build out the kind of technology and culture that, when the economy is back to full force, could make remote work easier for those who want to take advantage of it . . . .


Given our new reality, I would like to offer a few broad considerations for those jumping into this breach.
Read More...